Green Development is an Area Where US and China Can Strengthen Cooperation
By WANG Liwei, Reporter for Caixin – March 31, 2020
Deborah Lehr believes that the attitude of the Trump Administration is not necessarily an impediment as many conservation efforts in the US come from corporations and local governments at the state and municipal level. Ma Jun, Director of the Center for Finance and Development at Tsinghua University, expressed that China is the largest green consumption market in the world and there's great potential for China and the US to share technology and develop markets.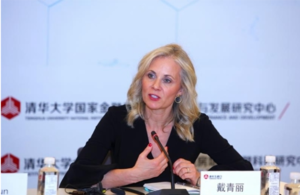 The outbreak of the coronavirus shut down economic activities around the world. Satellite data shows that air quality in March improved significantly compared to the same period in past years in major cities in China and in New York, the US epicenter of Covid-19. However, many people worry that in a few months China and the US will relax environmental standards in the pursuit of a quick economic recovery. On March 30, Xin Guobin, Vice Minister of the Ministry of Industry and Information Technology (MIIT) said in a State Council news conference on prevention and containment of Covid-19 that MIIT will proactively expand demand and support consumption of new products and services such as smart senior care and green products. MIIT will also coordinate with other ministries to readjust policies related to new energy vehicles.
On March 27, President Xi Jinping called President Donald Trump at his invitation. The tension between China and the US is expected to improve in the short term as a result. "It is critically important for China and the US to find areas where they can maintain ties and strengthen cooperation," said Deborah Lehr, Vice Chairman and Executive Director of the Paulson Institute, in an interview with Caixin. Considering China and the United States are the two largest carbon emitters in the world, green development can help improve the environment, drive potential economic growth in both countries, and benefit the world.
Lehr has long been a chief advisor on China issues to Hank Paulson, Chairman of the Paulson Institute and former Secretary of the Treasury. The US-China Strategic Economic Dialogue initiated by the George W. Bush Administration was an idea that they came up with during one of their brainstorm sessions in 2006.
US-China cooperation faces big uncertainties in such areas as technology, cross-border production, and supply of manufacturing, medical and food products given the trade frictions and the Covid-19 crisis. According to Ma Jun, the green and environmental industry is a sector that could avoid the impacts of US-China trade frictions or the coronavirus.
During a recent interview with Caixin, he said that this industry is not tied to the more sensitive national security space. It also has a shorter supply chain. For example, compared to traditional automobiles, new energy vehicles require fewer parts and components.
The Trump Administration's attitude toward climate change brings many challenges to the post-Paris Accord world. "But the attitude of the Trump Administration is not necessarily an impediment to US-China cooperation," said Lehr. Many green development efforts in the US come from the corporate sector, especially financial institutions. They also come from governors and mayors who are at the forefront of development and management. These are bottom-up efforts, not top-down policies.
At the corporate level, large financial institutions such as Goldman Sachs, BlackRock, and JP Morgan have redefined sustainable finance as a core business to be pursued and strengthened in the future vis-a-vis part of the corporate social responsibility in the last few months. (Refer to Caixin articles entitled "Goldman Sachs commits over 100 billion dollars to sustainable finance. Is this corporate philanthropy?" and "BlackRock's 2020 China and climate offensive.") Lehr also said that Goldman Sachs recently acquired a major green investor that has been using artificial intelligence and fintech to make green investments. BlackRock is wielding its influence derived from managing over 7 trillion dollars of assets to encourage companies around the world to change their non-green operation and development practices.
On March 9, the Green Finance Center of the Paulson Institute and the Research Center for Green Finance Development at Tsinghua University jointly released a report entitled "Fintech Facilitates the Sustainable Development of Green Finance in China: Case Studies and Outlook."  The report presents four case studies including Huzhou City in Zhejiang Province, a green finance reform innovation and experimentation area, which supports green small and medium enterprises (SMEs). Deborah Lehr and Ma Jun acted as senior advisors to the research team. "How to use market mechanisms to drive change is at the core of what we care about at the Paulson Institute," said Lehr, such as using fintech to help corporations pursue green development.
Before the Covid-19 pandemic, the research team convened two workshops attended by around 50 experts from dozens of Chinese and US institutions, including representatives from many American private companies and non-profit organizations. Lehr highlighted the Huzhou municipal government's use of fintech such as big data and machine learning to analyze and review the information of green enterprises in the city in order to create a system for assessing the environmental impact and green development of local enterprises. This can serve as an important reference for investors who are looking for green investments.
Ma Jun said that the majority of green finance business involves large projects. For example, large banks offer billions of yuan in green loans to wind and solar power projects. Such projects require third party green performance evaluation at the cost of hundreds of thousands of yuan, almost negligible compared to the loans themselves. However, many SMEs are disadvantaged because they cannot afford the third-party evaluations on their green business and green consumption as the cost accounts for a much larger share of their sales revenue. He also pointed out that waste water and air pollutants require ongoing and consistent monitoring, not just one-off evaluations. Such monitoring is also very costly.
Ma Jun said that as one of the eight green finance reform innovation and experimentation areas approved by the State Council in 2017, Huzhou City allocates 1 billion yuan each year to support green finance, mainly in the form of incentives such as loan guarantees and interest subsidies. The Green Finance One-Stop Service Platform of Huzhou City was launched at the end of 2018. The green lending service system, a part of the platform, is connected to all 36 banks in Huzhou City's jurisdiction. It has provided loans for green projects to over 13,000 SMEs.
Green projects identified by the green lending service system are qualified for government loan guarantees and interest subsidies. As a result, green SMEs are very enthusiastic to participate. Ma Jun said that it is not only a database but also a platform that helps banks find green projects more easily. It can also help corporations and projects find green investment more easily. The incentives attached can reduce the financing cost of green projects.
The objective of the Huzhou project is to scale it up in Zhejiang and other provinces and cities with the right conditions. Lehr said that such efforts to combine green finance and fintech are at the forefront of innovation in the world. There is a large amount of money for green investment in Europe and the US, but what they desperately need are green projects and investments.
Even in political circles in Washington right now, there is interest in green development. In the negotiation for the 2 trillion-dollar stimulus package signed into law by President Trump on March 27, the Democrats strongly requested tax credits for solar and wind power projects and that airlines should meet more rigorous emission standards as a condition of getting whatever assistance the Trump Administration provides.
According to Ma Jun, China has the largest green consumption market in the world. This is because on the one hand, China has had a more serious problem of air, water, and soil pollution compared to developed countries for many years. On the other hand, in the wake of Covid-19, there is a strong demand for improving people's livelihood and green development. For example, he said solid waste management is directly linked to Covid-19, especially the disposal of medical waste. Without professional technology and equipment, more infections will occur. During the coronavirus pandemic, takeout and online shopping has become an integral part of people's lives. The waste generated by plastic bags and packaging materials has grown exponentially as a result.
Addressing these challenges requires new technology and new equipment. American and European companies have done more experimenting and have more mature technologies in these areas. But he said that the market potential for green in China is widely recognized by green tech and green product companies around the world.
This article was first published in Chinese by Caixin.